Identifying mold and mold-related illness
Mold is a huge problem in many homes throughout San Diego and, unfortunately, many people inhabiting these homes are unaware of the problem. As homeowners and inhabitants, we expect mold to appear in more common places, like under the sink, on shower curtains, or in some cases, even in basements.
There are thousands of species of mold found in homes throughout San Diego. Since mold is such a prevalent issue for homeowners and tenants alike, scientists have classified molds according to their effect on humans and other living organisms. Below, we've included some tips on identifying mold and mold-related illness.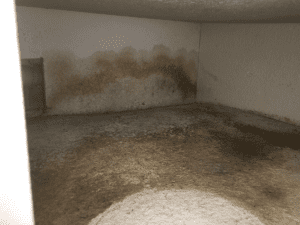 Mold is most commonly divided into three types:
Allergenic Mold: Allergenic mold is typically lies on the low end of the danger scale and only causes problems for those with asthma and/or a predisposition for mold allergies. In most cases, children are more likely to have mold allergies than adults.
Pathogenic Mold: Pathogenic molds can, in some cases, cause infections and can cause severe issues for people with a suppressed immune system. Bacterial pneumonia is an acute response commonly found in those exposed to these types of mold.
Toxigenic Mold: Toxigenic mold produce mycotoxins that can cause serious health issues that are often tied to immunosuppression and cancer. The toxic chemicals found in these types of molds can easily be absorbed into the body when one inhales, eats or touches them.
Five of the most common indoor molds include:
Alternaria: Alternaria is commonly found in your nose, mouth and uppoer respiratory tract and can cause allergic responses.
Aspergillus: Aspergillus is often found in warm, extremely damp climates and commonly accompanies house dust. Aspergillus produces mycotoxins and can cause lung infections.
Cladosporium: While cladosproium is a common outdoor fungus, it often finds its way indoors to grow on textiles, wood and other damp and porous materials. Cladosproium is known to trigger hay fever and asthma symptoms.
Penicillium: Penicillium is a very common species of mold that is typically found on wallpaper, decaying fabrics, carpet and fiberglass duct insulation. Penicillium is known to cause allergies and asthma. Some species of Penicillium produce mycotoxins, the most common species being the common antibiotic penicillin.
Stachybotrys: Often referred to as "black mold", Stachybotrys produces mycotoxins can cause a number of mold-related illnesses, including serious breathing difficulties and bleeding of the lungs, among other health problems. While Stachybotrys is not found in homes as coomonly as the other four types of mold, its occurrence is not rare, and often appears on wood or paper.
There are a number of symptoms indicating mold-related illness. Below, we've listed the 11 most common signs of a mold illness.
11 signs of a mold illness:
Brain fog, memory problems, trouble focusing, headaches,
Fatigue and weakness,
Unexplained muscle craping, aches, pains in the joints and persistent nerve pain,
Numbness and tingling
Red eyes or light sensitivity,
Asthma and sinus problems like cough or shortness of breath,
Tremors and vertigo,
Digestive issues – can include change in appetite, diarrhea, nausea, and abdominal pain,
Metallic taste in the mouth,
Temperature regulation or night sweats,
Problems related to temperature regulation, like night sweats, and
Excessive thirst and increased urination
Since many of these symptoms can overlap with other conditions, you should definitely consult a health care practitioner to determine whether or not your illness is related to mold and mold toxicity.
If you believe your home or your tenants have been exposed to mold or are at risk for mold-related illness, you should consult experienced and professional mold technicians, like the experts at Rarefied Air Environmental. Only a qualified professional can identify the presence of mold and assess whether or not you have been exposed to harmful mold and are at risk for mold-related illness. Contact Rarefied Air Environmental today for a consultation!